As new fields of knowledge are emerging and the challenges of being premier university globally, NUS is experiencing growth in terms of curriculum range and student enrolment. These have challenge the process of campus land use and space planning.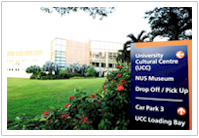 Physical Planning and Management (PPM) provides ground work in physical development and spatial planning to facilitate and accommodate the needs of the University community based on site characteristics and constraints.
Through Campus Planning and Development Committee (CPDC), PPM provides support and recommendation to the Board of Trustees on policies relating to the planning and development of physical infrastructure of the University and undertakes periodic review on the implementation of the Campus Master Plan. This ensures that Master Plan is maintaining the short and long term strategic direction of the University.
The PPM unit manages planning activities (driven by Campus Master Plan) relating to both short & long term development of the NUS Campus as well as space allocation matters which includes review and establishment of campus-wide space standards and polices.
Basically, the unit overlooks two main areas:
CAMPUS MASTER PLAN
Being a campus development information centre, PPM focuses on planning and refining the campus master plan based on the growth patterns and future needs to:-
ensure that the physical environment facilitates the academic needs and social vitality of the University holistically;
enhance the land use based on the following components:

academic programs and spaces,
housing & dining,
informal learning spaces,
green space and landscape,
connectivity;

identify future potential: flexibility, adaptability and integration;
provide guidelines for orderly physical development and enhancement, eg: architecture, land use, space use, landscape, transportation, parking and utilities.
Campus Master Plan lays the foundations of tomorrow's campus.
PLANNING REGULATORY
"Creating and achieving a high standard of corporate governance structure with clear internal control systems, reporting and responsibility lines and procedures are essential for the University as it moves towards its vision to be the leading university in the global arena." – From NUS's Corporate Governance Report.
PPM therefore provides primary parameters which is not a planning restriction but to help users to plan and implement their projects and plans programmatically.
The services include:
Assisting users in assessing their project's consistency with existing University planning standards and guidelines.
Facilitating and coordinating the involvement of other parties in the planning and implementation of project.
Reviewing design and encouraging sustainability and efficiency in building layouts.
Preserving the green as much as possible as well as conserving the historical building.
Ultimately PPM strives to create an excellent environment for integrated teaching, research and entrepreneurship.